Friday, November 26, 2010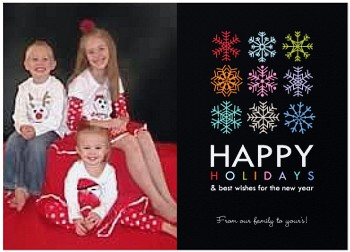 Stylish Snowflakes Black Christmas Card

Monday, November 1, 2010
Altered canvas can be used for so many different occasions and themes. These make wonderful personalized gifts and great decor!
This one is a bit different then my usual step by step instructions. Since canvas comes in many sizes you may need to adjust to your projects needs
Altered Canvas
Supplies:
1 canvas - mine is 12x12
acrylic paint
Mod Podge
Sponge prush
printed scrapbook paper - mine is cut to 6x12
Ribbon
Stapler
Embellishments - I used chipboard stickers and rub-ons
First you need to paint the canvas. Any part that will be showing needs to be painted. Since the bottom half will be covered by the paper, I only painted the edges. make sure you paint the outer edges as well. I wanted more of an abstract multi colored look. So I did blue, purple, and pink.
Lightly coat the canvas with Mod Podge where your paper will be going. If you use too much Mod Podge the paper will get air bubbles. So remember a THIN layer.
Carefully place your paper onto the canvas. Gently rub it smooth, pushing any air bubbles to the edges. Flip the canvas over and rub again to be sure the paper is evenly attached. If you want you can wait for a bit for the mod podge to dry before moving on.
Coat the paper and canvas in a thin layer of Mod podge to seal the paper. And to give it a protective coating.
Next you are going to mount your photo(s) to the canvas. If the mod podge you used to coat the paper and canvas are still wet, use that to mount the photos. Otherwise make another thin layer of the mod podge then place the photos onto the canvas. be sure to smooth out the air bubbles.
Wait a little bit for this to dry before moving on.
Make thin coat of mod podge across the top of your photos.
Allow to dry.
Embellish and decorate as you wish. I used black chipboard letters that I roughly painted pink, Chip board stickers on the photos, and I used rub-ons on either side of the word "love" and across the top and bottom.
Seal it all with another layer of Mod Podge and let dry. After it is dry you can spray with an acrylic coat if you want another protective layer. I didn't do that on mine.
If you want to hang it on ribbon, you will need to attach the ribbon to the back of the canvas. I used a stapler. I attached mine in the center, but You could also attach it on the corners.
I finished it off by hot gluing a bow to the center on the front.
I am planning on making a few of these for gifts this year. They are so easy to make. And I have seen quite a few deals lately on the canvas. So they don't cost very much either